Replacement Parts for Industrial Hand Trucks
If your hand truck has been damaged, or you realize you need material handling equipment with different specifications, don't buy a whole new one just yet. You might be able to find hand truck replacement parts that meet your needs, getting you back in business at a lower cost and with less waste.
RWM Casters offers the hand truck parts you're looking for! Browse our selection or contact us at 800-634-7704 to ask questions or place an order.
Replacement Hand Truck Handles
Hand trucks come with numerous handle designs to meet your ergonomic preferences. In general, the simpler the handle design, the less weight it adds to the frame. Consider the benefits of each option available from RWM:
Single horizontal loop handles are the most popular, giving the user multiple grip locations for different situations.
Vertical loop handles improve maneuverability with multiple gripping choices.
Dual grip handles offer excellent steering capability and a solid grip for optimal load control.
Pin handles offer an optimal balance point between the user and the hand truck. A top grip is ideal for control on stairs, while a center grip provides easy one-hand turning.
Dual loop handles are preferred for providing control while climbing or descending stairs.
Hand Truck Frame Extensions
The purpose of a frame extension is to accommodate taller loads. This provides added stability so hand truck users can cart around bookshelves, appliances, tall stacks of boxes, and other oversized items. Frame extensions are available in various heights to meet your needs.
Replacement Hand Truck Noseplates
The noseplate is the part of the hand truck that supports the bottom of the load. Perhaps the noseplate on your truck has been damaged, or you want a larger version to accommodate unusual package sizes. Either way, the aluminum noseplates from RWM are sure to meet your needs. Numerous options are available to fit convertible or fixed hand trucks of different sizes and styles.
Replacement Hand Truck Wheels
After years of heavy use, your hand truck wheels may be worn out. RWM offers six different replacement wheel options in 8- and 10-inch sizes. In general, 8-inch wheels are lighter than 10-inch wheels, though the 10-inch option typically provides superior maneuverability over diverse terrain. Explore the different wheel materials we offer:
Solid rubber wheels provide easy-rolling performance and maintenance-free tires.
Nylon wheels with rubber treads are among the lightest, yet most durable wheels available for hand trucks. They roll well over most paved surfaces.
Pneumatic wheels provide shock absorption to protect the load from excessive vibrations when rolling over gravel or other uneven surfaces.
Solid foam wheels are excellent for rough and uneven terrain, providing similar shock absorption qualities as pneumatic wheels. They never need air, and they never go flat.
Hand Truck Hardware & Misc. Replacement Parts
Sometimes, the right accessories are all you need to perform an effective hand truck repair or upgrade. We have a variety of hardware and replacement parts in stock for compatibility with various models of fixed and convertible hand trucks, including:
Wheel brackets
Axles
Lock assemblies
Nose extensions
Casters
Stair glides and wear strips for stair glides
Accessory bags
SlimLine hand truck replacement parts
For help finding the right parts to repair or upgrade your hand truck, please contact RWM Casters at 800-634-7704.
Handles
Frame Extensions
NOSEPLATES
WHEELS
HARDWARE
MISC
Slimline Hand Truck Replacement Parts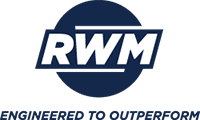 Featured Products

F1-PLT-CA2-FN2-S1
Standard fixed hand truck frame with a pin handle with a top grip, 10" full pneumatic wheels, a cast aluminum nose plate that is 18" wide by 7.5" deep and standard stair glides.
Contact Us
1225 Isley Road
Gastonia, NC 28053
customerservice@rwmcasters.com
Phone: 800-634-7704
Fax: 704-868-4205
ONLINE CONTACT FORM
Distributor or OEM Customer?
Click here to visit www.rwmcasters.com